TEACHER'S GUIDES AND VIRTUAL PRESENTATIONS TO YOUR TELE-CONFERENCE, -WORKSHOP OR -EVENT
AUTHOR VISITS (from a time when social closeness was OK)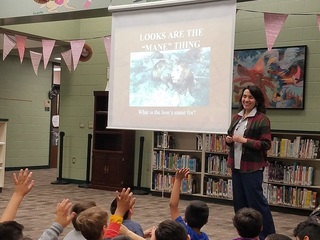 HUMBLE ISD STUDENTS AND TEACHERS ROCK!

What a day it was! Ms. Mitchell was right; I was exhausted at the end, but all of it was worth it.

Humble ISD Elementary school second, third and fourth grade students dove with me into the deepest oceans to uncover the secrets of deep diving mammals. After that, we traveled to African deserts tagging along with scientists who worked with live-size toy lions to reveal what the lion's mane is for.

The students were an amazing audience; attentive, curious and asked so many questions that I barely had the time to answer them all.

Thank you all for a wonderful experience!

"Teachers and students learned a lot and are excited to read your books; we already have a check-out waiting list!" Ms. Mitchell said later on an email.

What else can I ask for? Happy reading!
THE FOLLOWING TEACHER'S GUIDES ARE AVAILABLE FOR DOWNLOADING AND USE IN YOUR CLASSROOM
SCHOOL AND CONFERENCE PRESENTATIONS AND WORKSHOPS
Are you a librarian, a teacher, or organizing a conference or workshop for your organization and would like to include a talk on current topics in science, nature or medicine to entertain your audience?
Would you like to have an author speak at your museum, nature center, zoo, event?
TEACHERS AND LIBRARIANS: Are you interested in having an author visit your school and complement the school curriculum with current discoveries in science, nature and technology?
Would you like your students to get first-hand information of what college education involves and where it can take you?
Or maybe you would like to motivate your students about writing?
Would you like to update your students and teachers or coworkers about a current topic in schools, such as how to interact with students with autism and Asperger syndrome?
I invite you to check my list of talks listed below. You may find one or two that might interest you. All my presentations are interactive and supported by color slides (Power Point).
Invite an author to your school, library or event!
Click on my caricature on the right to contact me via email to find out about dates available, fees, and special rates!
-----------------------------------------------------
"WHY THE LION HAS A MANE?" Is it for protection or to convey a message? (Grades 1-5)
The lion is the King of the Jungle, and it is the only wild cat that has a mane and lives in groups. This 45-minute-long talk shows why the lion has a mane. It is presented as a story of how the scientists that studied the lions solved the long-asked question of the purpose of the mane. I think this talk fits very well a children audience because the scientists used real-size toy lions to answer the question. I complement my talk with a slide show showing photos of the scientists working in the field as well as the toy lions interaction with real African lions. Lions are at the top of the food chain so this talk would fit nicely when this topic is discussed in class.
"SCIENCE OF THE DEEP: DIVING WITH DOLPHINS" How aquatic mammals dive to amazing depths no human can challenge. (4th grade and above)
This 1-hour-long talk presents a variety of aquatic mammals well-known for diving deep into the ocean. Supported by color slides, my presentation shows students why aquatic mammals are capable of diving so deep, and why humans cannot. During the talk, students learn about the physics behind deep diving with examples they can relate to and a hands-on activity at the end clearly and simply shows what happens to lungs when creatures dive beyond certain depths.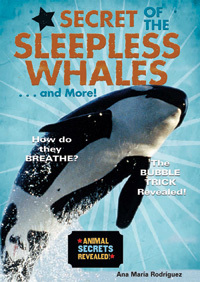 "DID YOU KNOW THAT…" How to write about science and nature in a way everybody can understand. (5th grade and above)
During this 1-hour-long presentation, students will read aloud at least one of my short articles about nature, science, history or cultures. Then the students will prepare to write their own version like if they were going to tell their friends about it. We will go over questions such as what was the article about? What did the scientist or historian do? Why was this topic intriguing or interesting to the student (or why wasn't it)? If they could choose any form of illustration, how would the student illustrate the article? This activity complements school curriculum for science, social studies and history covering both topics discussed in class and writing.
-------------------------------------------------------
"HOW A SCIENTIST BECOMES A WRITER." The evolution of my career from scientist to published author. (For 5th Grade and above)
In this 1-hour-long presentation students will get first-hand information about how a career may evolve. I will talk about what motivated me to become a scientist and what courses I took and the experiences (funny and serious) I went through during my studies and later when I worked as a research scientist at university laboratories. I will continue with my evolution toward becoming a writer, why and how I turned into a published author. This talk could be part of career week at your school or part of courses designed to provide future college students with real examples of what a college career implies and all the doors it opens.